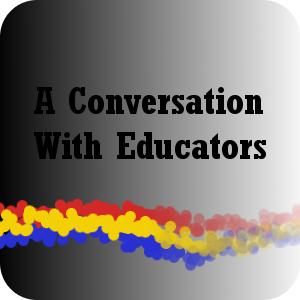 This afternoon I had a great conversation with David Miles and Fred Mindlin. David works as an Academic Coordinator in a private school in Dhaka, Bangladesh and Fred works as an educational consultant for the Central California Writing Project.
Both of them are extremely articulate and intelligent people who have a lot to say about education. I've known David for about 5 years now ever since we worked together in London, and I met Fred for the first time this afternoon.
I asked David through Skype, and I invited Fred through Twitter, and we all met in a Skype group chat. We decided to continue the conversation from #edchat and talk about educational reform.
This idea for a Conversation With Educators is from the podcast @betchaboy does, The Virtual Staffroom and is something I hope more teachers do. Talking with educators from around the world about what we do is a terrific experience. I hope to chat with more of you next week.
For now you can listen to this podcast episode below, or subscribe to this podcast in iTunes here. This podcast is licensed under a Creative Commons Attribution-Sharealike license so please feel free to remix it and share it, so long as you give proper attribution to the original work.
Listen here: here
For those of you who are curious about the production of this podcast, it was recorded using a program called Skype Call Recorder on Windows, and slightly edited using Audacity.