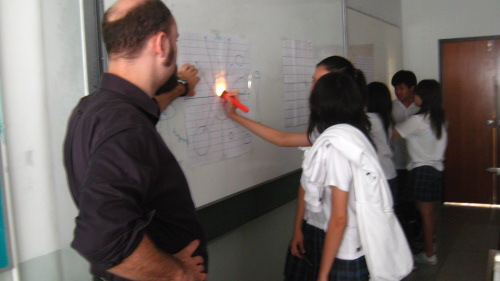 Update: It's amazing how much my thinking has changed since I wrote this post. I literally cringed as I read the part about homework & test scores.
One of the most common questions I am asked by parents during parent teacher conferences is, what can I do to help my child learn mathematics? There are a variety of answers I can give to this question.
The very first thing you can do is have a positive attitude about mathematics. Almost anyone I meet who does not use mathematics for their career tells me how hard they found it, or how much they dislike mathematics. Your positive attitude about mathematics will rub off on your child and will help encourage them to keep trying.
Show an interest in what your child is learning. Find out what they will be learning this year in mathematics and keep track of where they are at. There are certain topics that everyone finds more difficult, make sure your child has the help they need for those topics. If you move from one school to another, this information will help your son or daughter adjust to their new mathematics class.
From an early age, encourage your child to think about puzzles and problems. Having an active imagination and a willingness to think carefully are two huge assets when doing mathematics. Many times students struggle with mathematics because they do not know how to persevere.
Work with your child on their homework whenever possible. This does not mean do their homework, it means help them finish it. There is a clear relationship between finishing their homework and your child's scores on classroom tests and assignments.
Make sure your child has their addition and multiplication tables memorized. This can be very difficult for some children, but it is one of the few things that really should be learned by repetition. Not having to use their calculator for every single calculation will speed up how quickly your child can work, which will lead to improved test scores.
Keep in touch with the person who teaches your child mathematics. Make sure you are communicating with them often so that you are aware of your child's progress in mathematics. Strong communication between parents and teachers helps improve students' progress.
Most of mathematics is interrelated. There are connections between different topics which can sometimes be missed by students. If you send your child to Kumon math, or something similar, you should be aware that these connections are not taught in these types of classes. This time would be much better spent having your child work with a private tutor in mathematics.
Be realistic in your expectations. Not every person is a mathematician, and therefore not every child will be a mathematician, but all children can experience success in math class with sufficient support. Give encouragement when your child improves rather than discouraging them when they do poorly. Set reasonable goals for your child to achieve and give rewards for their achievement. An expression used often in North America is "you catch more flies with honey than with vinegar" which basically means that rewards are more effective than punishments.
If you follow these guidelines, your child should have a rewarding experience in mathematics. Remember that the goal of a mathematics class is to encourage analytical thinking and problem solving skills. If at the end of your child's school career they are a critical thinker, and are willing to tackle challenging problems, then you have done a good job.