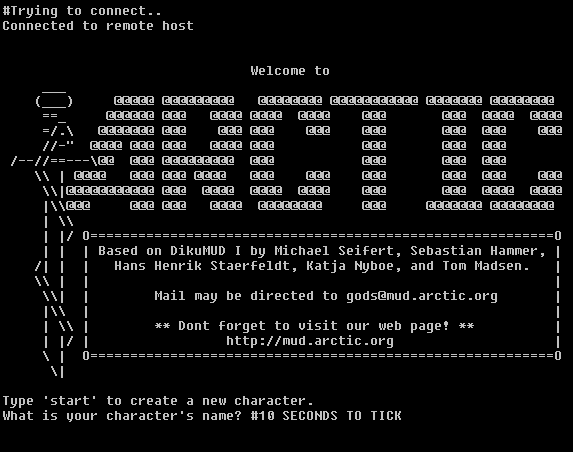 (Screenshot from the opening screen of Arctic MUD)
I have a confession to make. When I was in university for my first degree, I spent way too much time playing games, and not as much time as I should have on my studies. One of the games I played was called a multi-user dungeon (or MUD).
When I was asked recently by a colleague to help her find a typing game for her students, I was reminded of my experience playing MUDs. A MUD is a game written entirely in text, and their use predates the Internet itself. You enter the game through a specialized client, and type in commands, and read the results of your commands on the screen. Whole worlds can be created in muds. One of the MUDs I used to play had thousands of rooms players could move through, each of which had a description of the room. These descriptions were important, and because there was information in the room descriptions associated with mini-quests in the game, you had to read them thoroughly, and pay attention to details.
I took a typing course in high school, but none of the typing skills took. The course was incredibly boring, and my memories of it are of typing asdf asdf asdf over and over again. I did not learn typing from the typing course I took, I learned how to type as a result of spending hours and hours playing a MUD in school.
Every command I sent the mud had to be sent via the keyboard. There were no options to click on buttons to make the game work, you had to type. As a result, I had a strong incentive to learn how to type faster, because by typing faster, I made the game go faster. Typing faster gave me more control over the game, and this was amazingly empowering. Typing accurately was important too. The game moved fast, and if I typed something wrong, my character in the game died, or the game just sent back an annoying 'Hunh?' when it didn't understand my command.
The next thing I realized is that the different parts of the mud (called zones) are each stories. When I move my character through the zone, it is like I am moving through a story, and controlling the action and pace of the story. This is part of the reason kids are so excited to play video games today; they have some control over the pace of the story, and the flow of the game. Today's video games are excellent places for students to explore narratives, but they aren't text narratives, and it is still important to understand text narratives.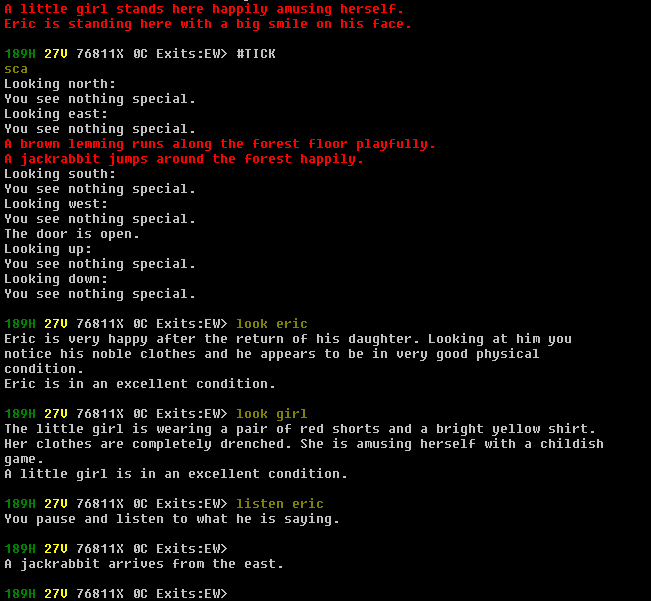 (Screenshot from a zone on Arctic MUD called "Forest of Haven", created by Draknor)
The zones in a mud include things called mobs, which are non-player characters controlled by the computer. These mobs can be considered to be bit actors in the stories of a mud, and the players are the main characters. Imagine that instead of just reading about Tom Sawyer and how he tricked the other boys into whitewashing the fence, that you could join him in this mini-quest in the story, and interact with him and the other characters in the book. How would that change how you viewed the book?
I thought that muds could be a way that students could read, access, and see an interpretation of a story, but they could also create interpretations of stories. One of the advantages of muds has always been that the source code for many muds is free to download and modify, and that the resource required to run a mud are fairly minimal. The editing systems for most muds is reasonably archaic, but its not too complicated to create simple effects, certainly well within the reach of most students.
A group of university students created an online interpretation of Dante's Inferno as an exercise for one of their literature classes. When the mud was active, you could literally walk around the layers of hell as described by Dante. Can you imagine what it must have felt like to have created Dante's Inferno?
I see some interesting things one could do with a mud, but I need some feedback. Is this just a crazy idea?
Update: I just found out about Moose Crossing, which is a decades old project to do exactly what I am suggesting but with more control given to students than I had originally envisioned. Awesome.