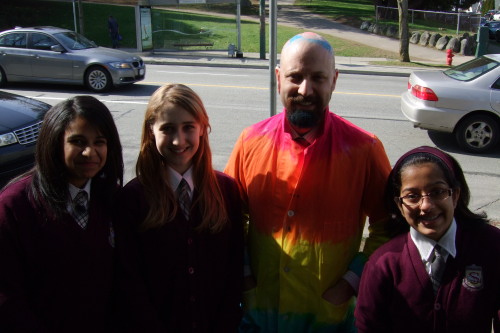 Just recently we had a very different type of auction at our school. Some teachers and many of the 12th grade students auctioned off various services for charity. For example, one of my colleagues agreed to dress up in drag and take some kids for an ice cream. Another pair agreed to set up a pizza lunch for the kids. The funds at the end of the event are going to our global humanitarian fund.
I agreed to have my head shaved, and three 8th grade girls paid for the right to shave my head for $30. I also had to carry around their books for the day, which ended up being a bit of a logistical nightmare and was abandoned after a couple of periods.
It is important that teachers participate in school culture and at some schools, events like this one just aren't possible. If the teachers are unwilling to see that building relationships with the students is crucial to school success, then the school will fail.
Now I'm not saying that every teacher has to shave their head, but some sacrifices might be necessary in order to help your school function. If we rigidly stick inside what our contracts tell us to do, then a lot of the relationship building crucial to school climate and culture may not happen. I gave up one of my lunch hours so that these students could create a memory that they will probably have forever.
As they were shaving my head (after some demonstrations and lessons from an experienced head-shaver), one of the girls said, "This was TOTALLY worth $10." I was thinking the same thing.