So I'm finally able to share an interesting story which has developed over the past 3 months. It started with TEDxVancouver, which I saw Nazanin Afshin-Jam speak about her work as an activist.
(photo credit: Rick Chung)
By a strange coincidence, we had a student at our school who was working on a film project about the stonings that were happening in Iran, and trying to understand the situation. Since I had just heard Nazanin talk about the same issue, I decided to look her up on Facebook. Turns out she has a public Facebook page, and she had enabled messages from anyone in her privacy settings. So I sent her a message.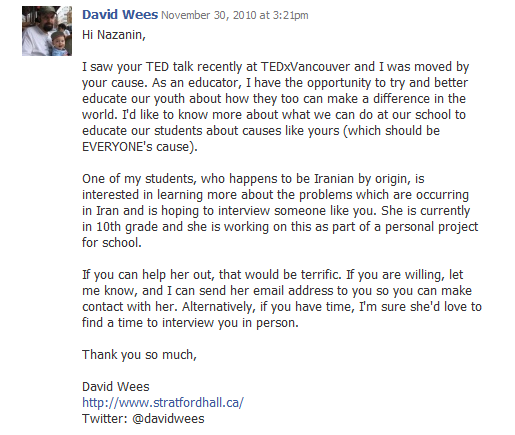 She responded! Well, actually one of the volunteers who helps her organize and manage her Facebook responded, but he did so with Nazanin's blessing. After several communications back and forth, and one miscommunication, we finally managed to arrange a telephone interview for today between Nazanin and my student. It took a few months, largely because Nazanin is an incredibly busy person, and travels a lot in her activist work so finding time to meet was challenging. Eventually Nazanin herself handled the last minute timing of the interview.
She called the school and I said hello, and thanked her for her time, and for the opportunity she was giving our student. I then passed the phone over to our student, because as I said, "this was her show." We didn't turn on the speaker phone even though we were dying to hear what she had to say, we just sat and listened to the questions our student asked, and I have to say that they were hard questions, and I really was curious to know what the responses were.
"What is the background of stoning," our student asked, after exchanging pleasantries, jumping right into the heart of what she wanted to know. Twenty minutes and 10 questions later, we had a very satisfied student in front of us, one who seemed really impressed by the conversation. My colleague, who sat in on the interview out of curiousity, said to me after our student left, "we'll never know what Nazanin said." I agreed, "It doesn't matter though, she obviously learned a huge amount from it. You saw her face."
You can't help your students have experiences like this unless you ask.