As some of you probably know, I'm one of the lead designers on an open source math curriculum. Today I had an interaction that reminded me of a key benefit of open source curriculum.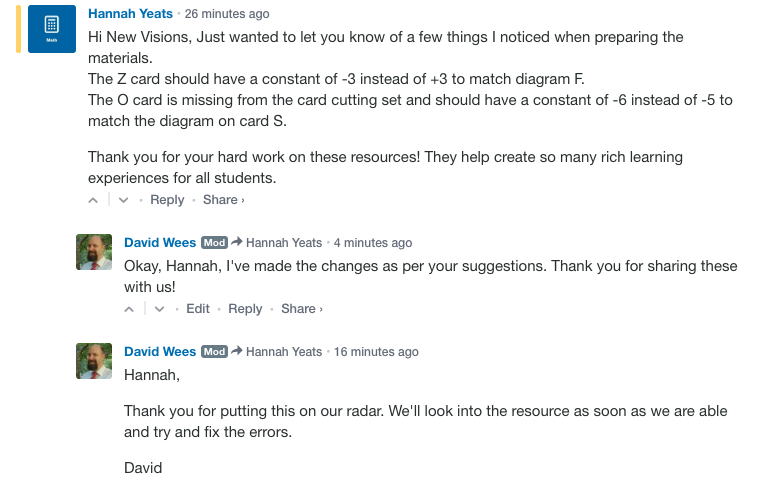 In a traditional curriculum model distributed either on paper or via PDF, Hannah would have to either print and then painstakingly correct the errors above by pasting over them or use some likely-painful-to-use PDF editing software to fix these errors.
We distribute our open source curriculum via Google Docs and as a result Hannah can just make a copy of the document, make the edits she wants, and then print the resources for her students. Hannah is also legally able to do this because our curriculum is licensed specifically for adaptations.

Since each resource we create has its own page on our website (the resource Hannah describes is here), Hannah was able to comment on a specific document and I was able to respond to her transparently.
There are drawbacks of using Google Docs. For example, it is not currently possible with our curriculum to print out the entire set of student handouts. This is a fairly frequent request we get from teachers but we don't know yet if the loss of editability is worth the increased ease of printing resources.
It would be helpful for me to know what other pain-points exist for teachers when adapting and modifying curriculum for their own classroom use, especially given that a high percentage of teachers make adaptations to curriculum they are given. If you were in charge of how someone shared curriculum, what would make it as easy as possible for you to make thoughtful changes to that curriculum?