You are here
Mathematical mistakes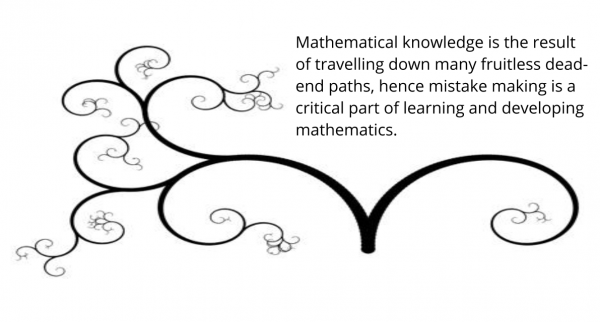 (Image base created by Curran Kelleher)
In the course I am taking online, How to Learn Mathematics, one of the assignments is to create a poster that highlights the importance of mistake making during the process of learning mathematics. What I believe is that mathematics is both in the external world (and hence discovered) and also a construct of our minds (and hence created). When students learn mathematics, they explore the world external to themselves to develop an internal model of mathematics.
An aside: Can you help me figure out how to make my poster look better? I'd like to add some colour or something, but I'm not sure exactly where...
About David

David is a Formative Assessment Specialist for Mathematics at New Visions for Public Schools in NYC. He has been teaching since 2002, and has worked in Brooklyn, London, Bangkok, and Vancouver before moving back to the United States. He has his Masters degree in Educational Technology from UBC, and is the co-author of a mathematics textbook. He has been published in ISTE's Leading and Learning, Educational Technology Solutions, The Software Developers Journal, The Bangkok Post and Edutopia. He blogs with the Cooperative Catalyst, and is the Assessment group facilitator for Edutopia. He has also helped organize the first Edcamp in Canada, and TEDxKIDS@BC.