Using Flex to Create an Algebra Puzzle
Submitted by David Wees on Tue, 11/10/2009 - 16:17
I was inspired by an algebra puzzle, done similar to this one, so I decided to build my own.
Also, I've got a quadratic equation version of the same puzzle available here:
The basic idea is that the students have to solve the algebra problems and then match up the solution to the problem with the problem so that they are next to each other. See the example below.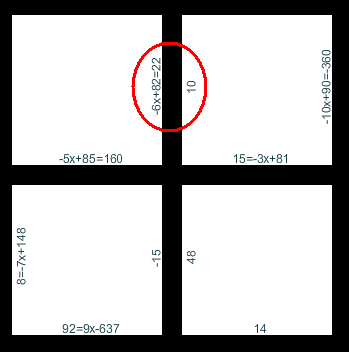 The idea is the equation -6x +82 = 22 has the solution x = 10, so we pair up the solution with its question so they are next to each other. Our objective is to pair up every question with its solution.
Right now, this version of the algebra puzzle doesn't let the students know when they are finished the whole puzzle. It really should give some sort of feedback, but I want to confirm that the students know how to solve the problems so I might just have the puzzle give feedback when the students complete it. A nice satisfying "Congratulations!" would be useful. As well, there are enough different combinations of boxes (including rotations) that random guess and check is going to be an ineffective way to solve the puzzles.
Reload the page (or change the settings below) to get a new randomly generated puzzle.

Subcribe to my blog